IF YOU LOVE LIFE, DON'T WASTE TIME, THEN TIME IS WHAT LIFE IS MADE OF.
Kitesurfing is one of the coolest sports you can do on the water. But what do you need to know at the beginning? Where can you learn everything and how long does it take? At Surfmotion we are the perfect contact. Just get in touch and we will be happy to provide information and help.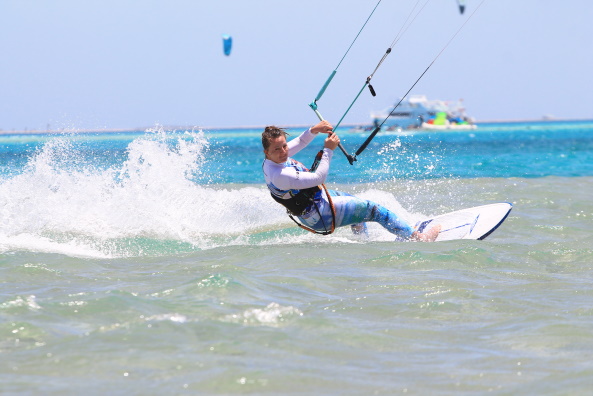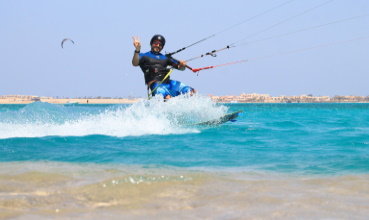 Kitesurfing
"What are you kiting? I've seen it many times and it looks great, but is it really dangerous? "
"Well, if you learn kitesurfing from scratch and you act according to your skill level, it's relatively safe. Nowadays the kite safety system is very good and, when used correctly, it is quite safe. "
"Yes and what is kitesurfing like?"
"It is the best thing I could ever do. It changed my life. "
"Yes and where are you going kiting then?"
"Everywhere in the country in the water in the snow. that's what makes it so special because it's so diverse. "
Step by step to kitesurfing, with Surfmotion dreams come true …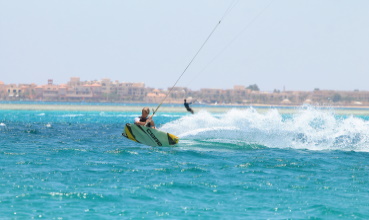 Spot
We also offer a perfect spot for you kiters with plenty of space. On the windward side of our station, approx. 20 m from the beach, there is a 2 km long and approx. 600 m wide standing area, which is 30 cm to 60 cm deep depending on the tide level. The waist-deep water then makes for really pleasant and safe first kite attempts, the first attempts at driving, learning to run high or the first cool moves. At low tide, part of the sandbar is dry for about 2½ hours. But even during this time you have a whole kite area for you behind the standing area. Our kite storage offers a lot of accommodation for your equipment. With our compressor you can save yourself pumping. And also for assembly and disassembly or just for storage during breaks you will find plenty of space without getting in the way of our surfers.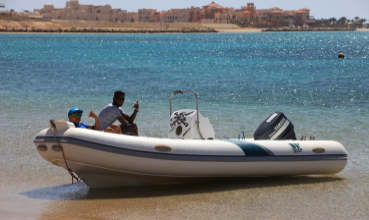 Security
Auch die Sicherheit nimmt bei uns eine sehr wichtige Position ein. Aufgrund der groesse unseres Spots konnten wir ihn in zwei Bereiche teilen, in den Beginner und Teaching Bereich und den Freeride Bereich. Desweiteren teilen wir ihn in den Bereich fuer Kitesurfer und Windsurfer, somit koennen wir gewaehrleisten das sich keiner in die Quere kommt, und das Unfallrisiko zwischen Kite und Windsurfer auf ein Minnimum reduzieren. Falls es doch einmal Schwierigkeiten gibt sind wir mit unseren Rescueboats sofort zur Stelle.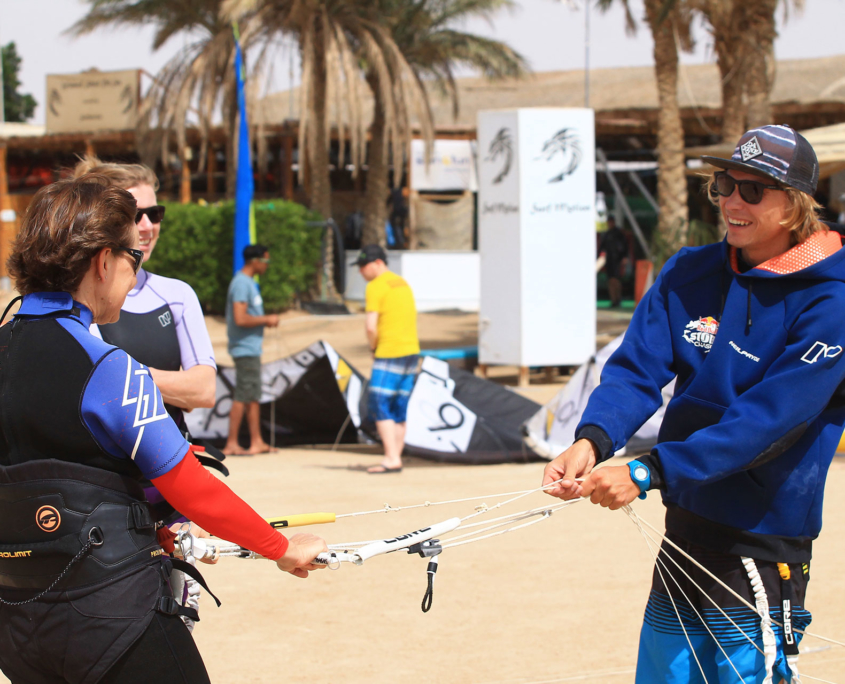 Our School
Do you want to learn kiting with fun and security? Do you want professional support that is individually tailored to your needs? Then you are exactly right with us! Our kite school is located directly on the beach, one of the top spots in Egypt, which offers perfect conditions for kite surfers of all skill levels. Highly motivated kite instructors await you here, who are particularly concerned with your safety, wellbeing and learning success. Curious? Then take a look around …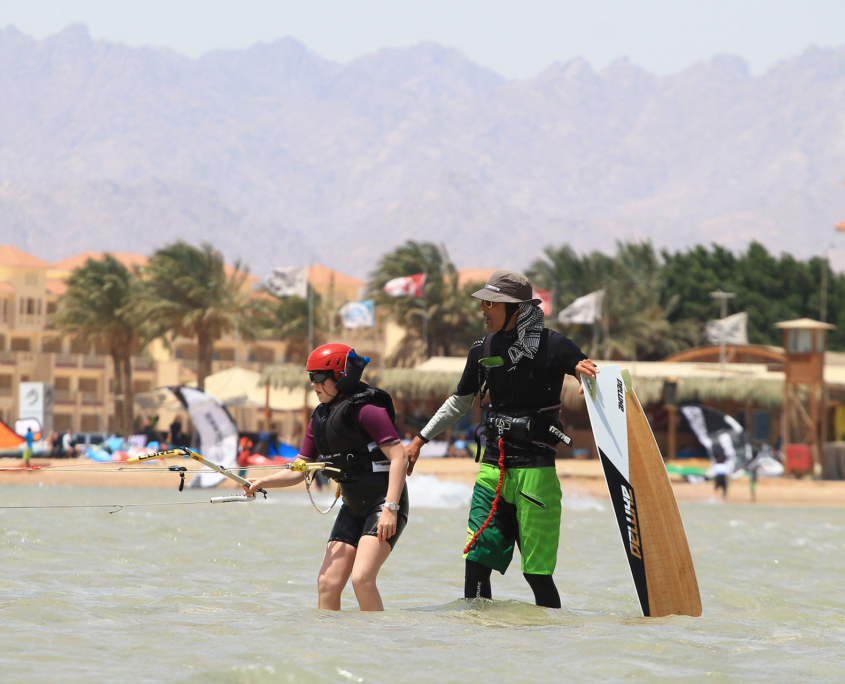 Our Courses
Our training courses are based on three points: the guidelines of the VDWS and IKO, the special properties of the spot and your individual needs. The latter offers you an enormous advantage. Our training courses are divided into modules. So you can be sure that the teaching content corresponds to your skills, a fast progress is guaranteed and you only pay for what you really need. I hope we could make you curious and see you soon …
Course Offers
Prices for Kitesurfing
ABC des Kitesurfens, Materialkunde, Auf + Abbau, Starten + Landen, Intensive Flugschule, Body Drag, Relaunch, Sicherheit, Wasserstart. Ink. Ausrüstung.

350€

KS 2 FORTGESCHRITTEN INKL. MATERIAL

Fahren, Höhe halten, Sprünge, Wenden. Individuell gestaltete Kurse.

330€

KS 2 FORTGESCHRITTEN EXKL. MATERIAL

Fahren, Höhe halten, Sprünge, Wenden. Individuell gestaltete Kurse.

290€

PRIVATSTUNDE INKL. MATERIAL

Individuelles Lernen auf allen Könnerstufen. Erste Flugstunden bis hin zu den angesagtesten Moves in der Kitesurfszene, Unhooked, Handlepasses – alles ist erlernbar!

90€

PRIVATSTUNDE EXKL. MATERIAL

Individuelles Lernen auf allen Könnerstufen. Erste Flugstunden bis hin zu den angesagtesten Moves in der Kitesurfszene, Unhooked, Handlepasses – alles ist erlernbar!

70€

Für die Unsicheren: Betreutes Aufbauen, sicheres Starten + Landen und einige Tips. Zusätzlich kann danach eine Lizenz ausgestellt werden.

40€

IKO ODER VDWS GRUNDSCHEIN

35€
MATERIAKMIETE FÜR KURSTEILNEHMER
(inkl. Trapez, Anzug, Schuhe, etc.)
| | | | | |
| --- | --- | --- | --- | --- |
| | 2 Std. | 1/2 Tage | 1 Tag | 3 Tage |
| Kite/Bar/Board | 30€ | 48€ | 78€ | 150€ |
| Kite/Bar | 20€ | 35€ | 65€ | 110€ |
LAGERUNG PRIVATMATERIAL
(inkl. Strandnutzung & alle Rescues)
| | | | |
| --- | --- | --- | --- |
| Kitematerial | 7 Tage | 14 Tage | 21 Tage |
| 2 Kites & 1 Board | 100€ | 180€ | 250€ |
WINTERSPECIAL 15.12. – 28.02
Surf- und Kitemotion Peter Müller
Phone: +20 1157810171 (only for Transfer)
Mobile: +20 106 856 2062
9-17 Uhr Oktober-April
9-18 Uhr Mai – September